We launched WayMore Community Engagement to give back to our communities—because we believe giving back is just part of being a responsible business. We want to Give More. Do More. Be More to serve our community, our clients, customers, operators and consumers.
This drive for MORE and passion speaks to our commitment to our local community outreach, because we're WayMore! Though we're a national presence, our markets support their communities by volunteering with local nonprofits. Our team of WayMakers have dedicated countless hours to packing meal boxes, participating in clothes and toy-drives, and fundraising for humanitarian causes.
We've also partnered with national organizations like Feeding America, the nation's largest domestic hunger-relief organization with over 60,000 food pantries. We are a company passionately coming together for a common purpose to engage in actions that further social good and benefits the community at large – Winning as One!
See how our WayMakers are making an impact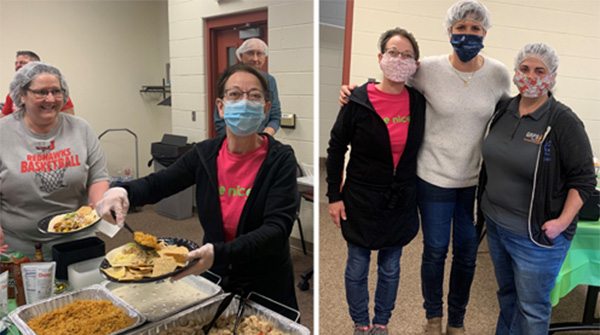 Ginny Korte Serves Those Who Serve Others
The volunteers at Grand Rapids Public Schools, on the front lines distributing food to thousands of families in need, normally eat whatever school food is left in the freezer at the end of every day. This didn't sit well with Ginny, "These people are working so hard. To show my appreciation I made them fajitas with all  the toppings, Sparkling Ice to drink and Sara Lee pies for dessert. They absolutely loved it and were very grateful." Thanks to Ginny for taking care of those who take care of others!
Brian Bjorklund Goes on Tour
Beginning his Operator Specialist career at Waypoint, just as COVID-19 hit, Brian Bjorklund was forced to meet his new contacts via email and Skype and he was determined to make a more impactful "first" impression. At the end of one of his virtual meetings, Brian got the OK to hand deliver samples to the US Foods District Managers who were on the call. Brian assembled sample kits and embarked on his "Porch Tour." Brian received many accolades from the US Foods District Managers praising him for going above and beyond. Brian's efforts made a great first impression and we wish him a bright future at Waypoint!
Vince Black Focuses on Behind the Scenes Medical Lab Workers
Vince Black's wife is a lab manager at Lake Forest Hospital, where they work day in and day out processing tests for COVID-19. Vince organized a "Lab Week Luncheon" using support from Mike Reed (Ventura Foods), Frank Bicek (Kikkoman), Vince's chain operator account Cooper's Hawk Winery and Restaurant, as well as donations from local businesses. The chefs and workers at Cooper's Hawk did a fabulous job of organizing and preparing 28 gourmet lunches for the lab crew. The luncheon was a huge success, leaving the lab workers well fed and feeling much appreciated!
The Las Vegas Team Helps Feed Families in Need
Braving the blistering Las Vegas heat in their protective gear, Zone Director, Lyndsay Pellum and her team of WayMakers: Non-Comm Specialists, Greg Schenkel and Jori Church, Operator Specialist, Kris Cannamela and Account Executive, Trevor Lane, along with their favorite Tyson Casino Rep, Holly Sgro, joined forces with the Chefs 4 Vegas group by assembling food donations for families impacted by COVID-19. The WayMakers really stepped up and were involved in all aspects of the event from packing bags to loading trunks and directing traffic! The event was a great success and provided food for over 260 families in the local community.
Cherie Rose and Mark Lindsey Deliver Sweet Surprises
West Texas K-12 Specialist, Cherie Rose, and Zone Director, Mark Lindsey, carried out a very thoughtful surprise for healthcare workers who are staying at hotels in order to protect their families while fighting the virus. Partnering with My Place Hotels, who is generously providing rooms to healthcare workers free of charge, Cheri and Mark delivered snack sacks to the rooms. Cherie explained, "It is so important to thank the wonderful Doctors and Nurses for what they are doing. If you have ever stayed in a hotel and opened the door to a gift from someone that knew you were going to be there, it just puts a smile on your face." Great medicine from the heart to our healthcare workers!
Waypoint Georgia Joins ACF Atlanta's Grocery Give-A-Way
Zone Director, Danny Knight, and his group of WayMakers: Regional Account Executives, Pete Davanzo, Kelly Chosewood, Matt McKenzie and Chain Specialist, Terence Harrington, K-12 Specialist, Scott McMichael, and Non-Comm Specialist, Janine Nunn, joined forces with the ACF Atlanta Chefs Association for their Grocery Give-A-Way. The event provided food to 500 seniors and 2,000 out of work food service workers and their families, at the East Lake Senior Center. The event was a great shared success bringing relief throughout the community!